Society of St. Vincent de Paul, St. Louis Council, announces New Store in Creve Coeur
By: Gena Bast / SVdP St. Louis Council Director of Marketing and Communications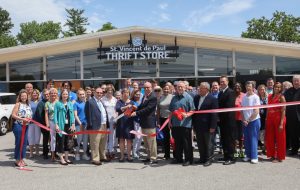 The St. Louis Council of the Society of St. Vincent de Paul recently opened a new thrift store located in Creve Coeur, Mo. This store is the ninth SVdP thrift store in the St. Louis area. The store was opened in late-May. A ribbon-cutting ceremony was held on Tuesday, June 12. The Council held a customer appreciation celebration this past Saturday where they served hot dogs, chips and beverages to customers as they browsed the new store.
"We feel this is a good opportunity to serve in an area where St. Vincent de Paul stores don't already have a presence," said John Foppe, executive director of the Society of St. Vincent de Paul –St. Louis Archdiocesan Council. "This new store will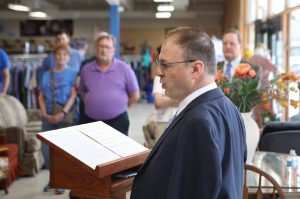 bring a thrifty and fun shopping experience that will benefit the surrounding community and our neighbors in need."
The new Creve Coeur St. Vincent de Paul Thrift Store will offer employment opportunities with approximately five full-time and 20 part-time positions. The job openings are posted on the organization's website, www.svdpstl.org. Volunteers will also play a large role in supporting the work at the store. Those interested can also learn more at www.svdpstl.org.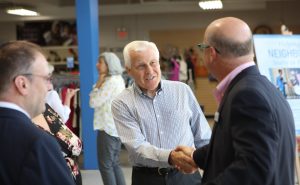 Items sold at the store are both new items and gently used clothes, housewares and furniture. One of the thrift store's signature products are its low-cost mattresses and mattress sets. New bed frames, sheets, comforters and pillows are also sold at the stores.
Donations of clothing, home goods and furniture will be accepted at the store. A convenient drive-up drop-off area is located at the side of the building. Donations can also be placed in bins located throughout the St. Louis area. (www.svdpstlouis.org/locate-donation-bin) Arrangements for large donations to be picked up can be made by calling 314-881-6006.