MARKETING YOUR THRIFT
Communicating with your customers, donors and other community members is critical.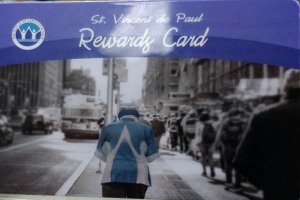 Idea: Offer a "Loyalty Card"


Customers must register to receive this card that will provide them with 20% off purchases.

Registrations

 provides vital information, including email addresses, to enable your team to affordably communicate messaging.

Secure their emails. The best message we can share with likely customers and donors is impact. How is the Society helping local people? This message of hope resonates with people. No need to refer to your store as the biggest, best, cheapest. Instead remind the public that the Society's thrift is a charity that helps people.
Reinforce the Society's brand and mission to shoppers within your store. Using overhead announcements and signage works well.
Engage supporters through social media
Facebook best practices

Post two to three times per week only – do not overwhelm your followers with posts.
Post advertisements that remind users how the Society gives back to people in need.
Include reminders of community events that coincide with SVdP values. Show the Society gives back!
Pose questions of followers, asking for their feedback.
Ask for donations – feed production.
Twitter
Great cross reference tool with Facebook and YouTube.
Allows you to send links to Facebook promotions and YouTube videos.
Secure followers: When a community partner established on Twitter tweets to you, retweet the message. This strategy will enable you to recruit their followers to the Society's twitter feed.

eCommerce
Sell items online? What do you need to know? Learn more.
Identify hidden gems. You never know when someone will drop off a masterpiece from Picasso or another hidden treasure. Put a system in place to find treasures.
Size matters. Plan to ship only lightweight, small items. Customers will not pay for shipping if it doubles  the cost of the item purchased.
Ask your donors for used books and sell them!
"Free Shipping" increases sales but diminishes your bottom line. You will need to carefully consider its use.
Selling an item though online auctions can be lucrative. Allow two weeks to sell the item. If it does not sell, drop the price 30%. If it still does not sell, return it  to the sales floor of your thrift or recycle it.